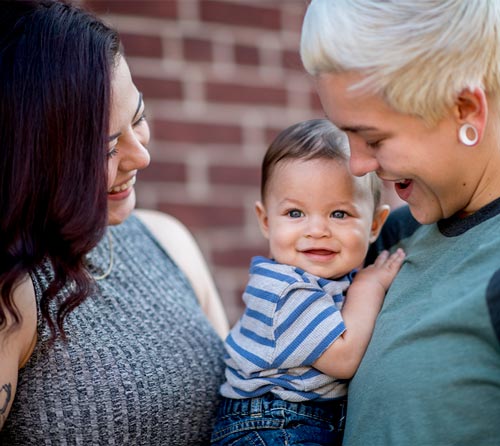 Midwest Fertility Center is proud to support LGBTQ couples on their path to parenthood.
MFC offers a wide variety of family-building options so that you can choose the style that aligns best with your goals.
Dr. Madanes has been offering fertility treatments to the LGBTQ community since Midwest Fertility Center opened its doors in 1984. He has dedicated his life's work to helping his patients become parents.
Dealing with infertility can be discouraging. After months of trying to conceive unsuccessfully, couples often begin to doubt they will ever have children — but help is available.
Dr. Amos E. Madanes, Director of Midwest Fertility Center, has helped countless couples overcome infertility to conceive happy, healthy babies.
To discuss your options with Dr. Madanes, call or schedule a consultation online.
MFC works closely with only the most highly respectable agencies for egg and sperm donation. As we partner with International Egg Bank and Midwest Sperm Bank, we are able to provide our patients with top of the line options when it comes time to egg and sperm donation, and at a significant savings.
We would love to welcome you and your partner as patients to our practice. A consultation with the doctor is the next step in discovering all of your family-building options. Doctor Madanes truly takes the time to help his patients decide on the best course of treatment to maximize their chances of conceiving. We are here to support you every step of the way and offer you the quality care you deserve. Schedule a consultation today!
If instead you prefer to meet with our Egg Bank Nurse outside the Fertility Center, this can also be coordinated easily for you.